QuanCles™ Salvage Buoyancy Airbag
Product Description
QuanCles™ Salvage Buoyancy Airbag is an inflatable airbag structure made of welding light and strong QuanCles™ membrane, which can be used in marine salvage to provide additional buoyancy for the hoisting.
Product Structure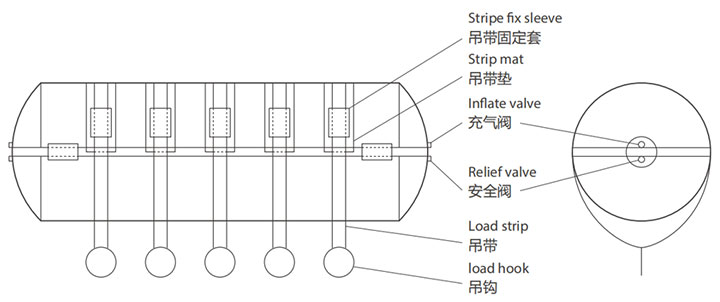 Features
Super Light
Quancles™ Salvage Buoyancy Airbag is made by welding UHMWPE fiber reinforced TPU membrane and coating with polyurea. The material density is only about 1 g/cm³, which is close to that of water. Therefore, to provide same buoyancy, it weighs only 1/10 of rubber buoyancy airbag, and 1/30 of steel pontoon, which makes it far easier to operate and transport.
Quancles™ Salvage Buoyancy Airbag is easily handled in water when divers install it especially into ship cabin because it is light and foldable. It is also easily loaded by truck or air container for a quick response to emergency salvage action.
Ultra-strong
Quancles™ Salvage Buoyancy Airbag can provide up to 300 tonnes buoyancy with 5 meters diameter structure due to its high inner pressure capacity benefited from the ultra-high tensile strength, tear strength and burst strength of QuanCles™ membrane.
Wear-resistant, Corrosion-resistant, Aging-resistant
Reinforced by UHMWPE fiber, protected by polyurea, Quancles™ Salvage Buoyancy Airbag is strong with excellent wear resistance, corrosion resistance and aging resistance, which makes it durable and reusable.
Workable in Extreme Environment
Quancles™ Buoyancy Airbag keeps its performance and remains flexible in extreme climate conditions especially in low temperature place, for instance, polar region.
Based on those performance advantages, Quancles™ Salvage Buoyancy Airbag are widely used in deep water salvage, counterweight water bag, jacking airbags, inflatable dams, pipe blanking plug and etc.
TECHNICAL DATA SHEET
Unit
Data
Test Standard
Material
QuanCles™ UHMWPE/TPU Membrane
Surface
Polyurea
Density
g/cm³
1
GB 1033-1986
Diameter
m
0.5/1/2/3/4/5
ISO 2286-2
Length
m
>1
ISO 2286-2
Tensile Strength
N/5cm
9500/9000
ISO 1421
Elongation
%
<10
Tear Strength
N
1200/1200
ISO 4674-1
Bursting Strength
MPa
>20
GB/T 14800-2010
Flame Resistance
/
B1
GB 8624-2012
Temperature Range
℃
-30~70
GB/T 18426-2001